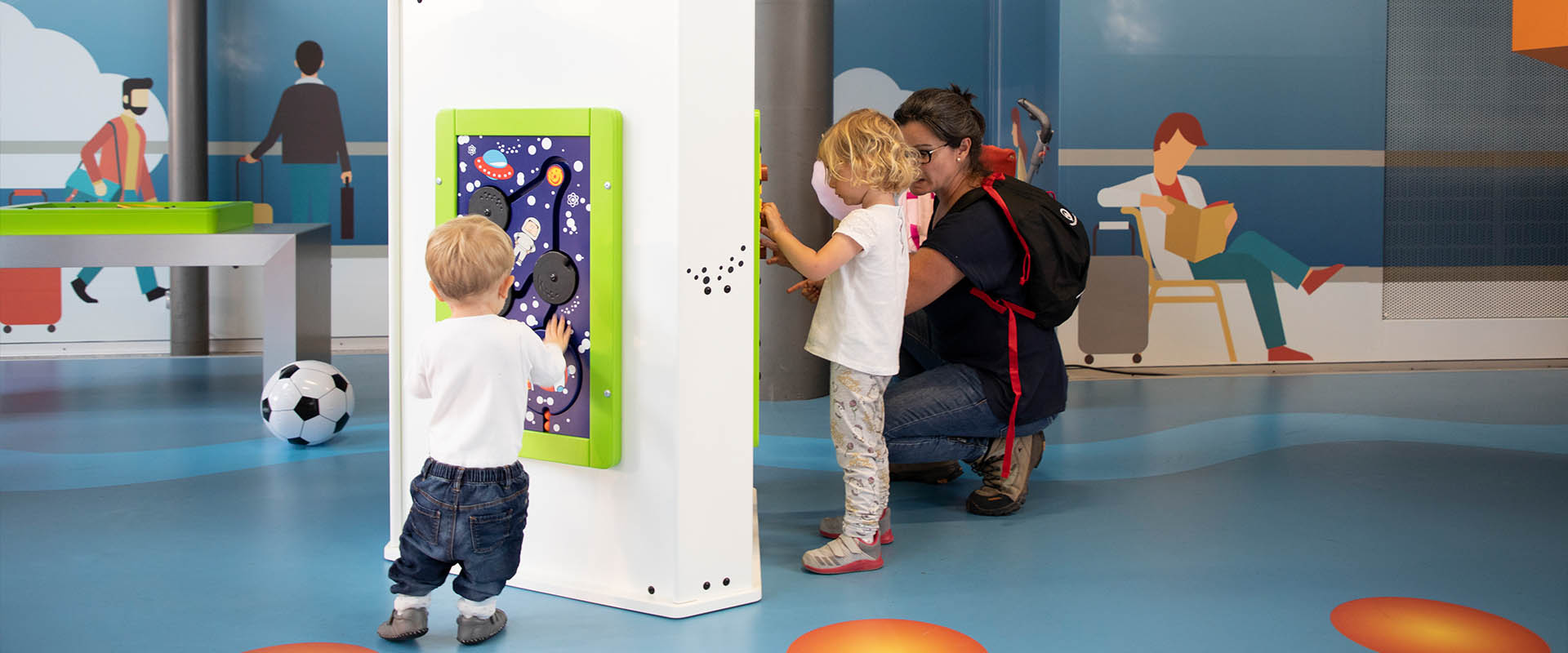 A suitable kids' corner within public areas means higher visitor satisfaction
Our goal is to turn every organisation into a child-friendly environment. A kids' corner gives children a safe place within your organization to play, discover and learn. While the children play, your visitors get more time in your establishment.
Around the world, our kids play areas create playing fun in shopping centres, banks, at airports, in government buildings and institutions: you can find our play concepts everywhere. And this is with good reason. 
An IKC kids' corner creates:
Happy children and thus happy parents
Increased visitor experience
More returning visitors
A relaxed area for everyone
We will gladly give you more information.

IKC designed a completely unique play area for Emma's Ecke which perfectly fits the BvB style.
Visual Merchandising Professional at Borussia Dortmund Football Club Germany
Waiting becomes child's play with a kid's corner
The comfort of all of your visitors is of paramount importance.  No one likes unhappy children.  Placing a kids play zone or scattering wall games from our comprehensive range around your facilities ensures that you can have undisturbed conversations with your visitors. Whether it's at the reception desk of the Mall or while waiting at the airport. You can easily create a play corner by adding kids' furniture with a wall game to your waiting area.
Families will feel welcome because you have provided a more pleasant atmosphere. Happy children result in happy parents. 
Get inspired by other child-friendly organisations.
Child friendly waiting areas for public spaces
Items






Child friendly waiting areas for public spaces
We strive to create a better world by giving children the chance to remain a child for as long as possible.
We offer play value for any space, for any wish throughout the UAE, Kuwait, Qatar, Saudi Arabia, Oman, Bahrain and the wider Middle East. With this, safety is always a priority. This is why our play concepts are always SGS certified according to the EN-71 safety norm. This is what you can expect from us:
Extensive advice on which kids' corner is most suitable
Combination of games and best layout to encompass a wide age range
Broad choice of play elements and interactive games from our extensive Kids' Corner collections
A custom design, in your organisations style
Inclusion of your organisation's logo in our interactive games software
Complete installation, maintenance, and broad warranty
 
Public area brochure
Download your brochure for public areas here
Interested in the possibilities and advantages for your government building, airport or other public space? Fill in the form below and receive our public area brochure in your inbox.